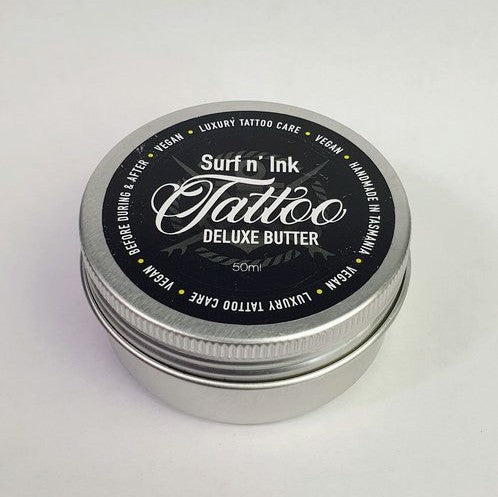 Surf n Ink Tattoo Butter 50g
---
Introducing our newest product (and something we are very excited to announce!) Surf n Ink Tattoo Butter!
This creamy tattoo aftercare is the perfect combination of natural ingredients to ensure your tattoo heals the way your artist intended. 
There are a few cool things about this product:
It was developed by pharmacist Bridget Williams, and this gal knows her shit. Shes' taken her knowledge of wound care and combined components in other pharmaceuticals and created this unique concoction of all-natural ingredients.
It melts like butter in the skin and can be used both during and after tattooing.
It is manufactured in Tasmania. Keepin' it Aussie-made folks.
It's vegan, low-allergen and organic.
It looks and smells awesome.
Here's what's in it and most importantly, WHY it's in it:
Certified Organic Shea Butter - long-lasting moisturizer, melts on contact with skin, soothes and reduces irritation.
Certified Organic Cocoa Butter - long-lasting moisturizer, helps create a barrier to protect against moisture loss. Aids skin repair.
Certified Organic Babassu Butter - a non-greasy moisturizer that penetrates the skin well. Babassu is what makes this product melt and glide into the skin with ease.
Certified Organic Jojoba Oil - fast-absorbing moisturizing oil that mimics your skins natural oils. It protects your tattoo, restores pH levels and soothes inflammation.
Vitamin E - cools, soothes, slows aging and improves skin elasticity.
Certified Organic Calendula CO2 Extract - soothes, reduces redness and inflammation & stimulates cellular repair.
Certified Organic CO2 Extract - soothes and calms the skin + anti-inflammatory.
---
Share this Product
---
More from this collection