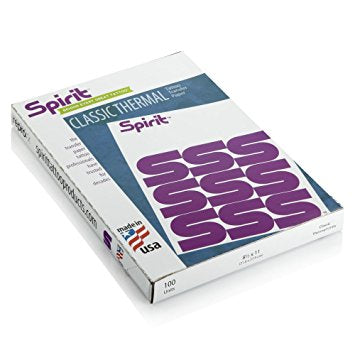 Original Spirit Classic Thermal stencil paper REGULAR 8.5 " x 11" and LARGE 8.5" x 14"
---
'The good stuff', Spirit Stencil Paper is the original go-to brand of stencil paper, manufactured in the United States. This is not a copy or a knock off - it's original!
Artists have been using this carbon paper since the dinosaur age - and for good reason; it works brilliantly for both hand and machine stencils. Pair it with Spirit Stencil Transfer Cream for a match made in heaven. For clean crisp bold stencils that hold from start to finish, Spirit Stencil Paper is your premium option.
Available in boxes of 100 sheets or packs of 10.
Size: 8.5" x 11"
Pro Tip: for your hand stencils, try using a really hard pencil (like a 6H) and work on a really hard surface (glass top desks or benches work great). 😉
---
Share this Product
---
More from this collection