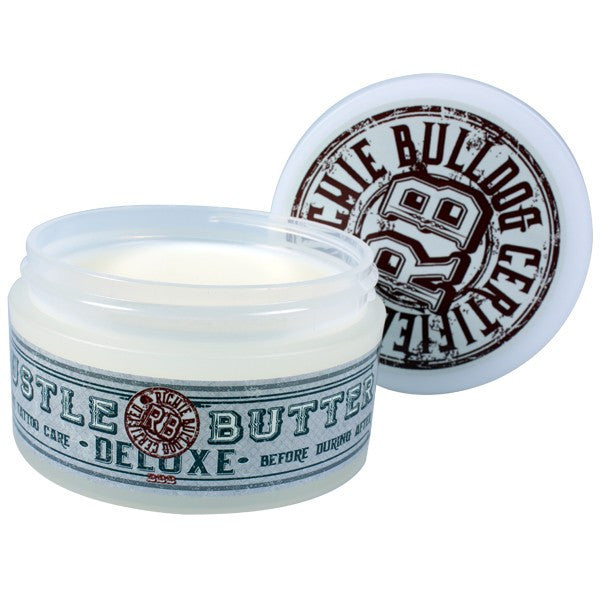 Hustle Butter Deluxe, 5oz
---
Engineered as a replacement for petroleum during the tattoo process, this smooth and silky pot of buttery goodness smells so good you could eat it. But although it's vegan-friendly and made from natural ingredients, it's still "Not for Toast".
With Hustle Butter you will experience a smoother glide over your tattoos when compared with petroleum. It's thinner consistency means that your tubes won't get clogged up with Vaseline. It's not-so-secret ingredients mean that you and your clients will observe minimal redness, swelling and bleeding with the skin remaining workable: no more over worked highlights, and yellows & whites go in the first time.
Use it also as an aftercare and watch as your tattoos heal faster with results that are unmatched.
Also available in Single Packets, or a Box of 50 Packets (great for on-selling to your clients as aftercare).
Ingredients: Shea, Mango and Aloe Butters, Coconut, Sunflower and Rice Bran Oils, Rosemary Oleoresin, Green Tea, Vitamin E Complex & Mint Arvenis Essential Oil. With Essence of Papaya and Coconut.
All natural and vegan-friendly.
---
Share this Product
---
More from this collection