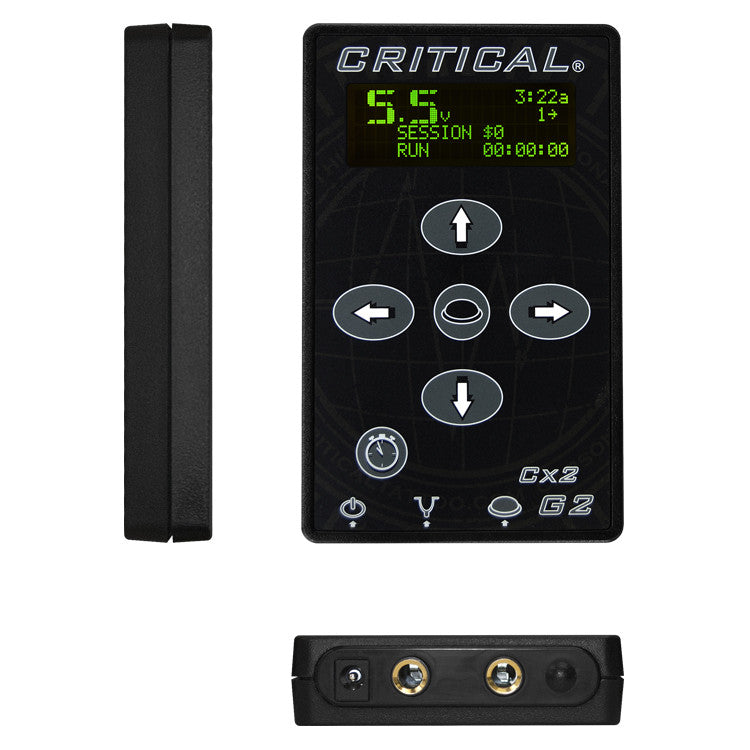 Critical Power Supply CX2
---
The Critical CX2; the professional artists greatest gadget. This is more than just a power supply - this is your personal assistant in fine tuning your machines and will give you entirely new insights so that you can have your tools running at their optimum.
Our favourite aspect of the CX2 is all about 'time'. Yes, this power pack not only displays the time of day, it can also record the length of a session as well as your total machine run time. Furthermore, like riding in a taxi, you can set up a currency meter based on an hourly rate set by you! Never have your prices questioned again!
The CX2 is packed with cool features:
2 year full manufacturer warranty means... you can sleep better at night! :)
Universal input from 110-240vac and 50/60hz means you can safely use this power supply anywhere in the world.
Momentary or maintained foot switch modes means that you can choose between holding your foot down on your foot pedal while your machine runs, OR tap your foot pedal once for continuous.
Pedal override button means there is no need for a foot pedal if you run continuous mode. (Great for packing light while travelling!)
Extremely precise 0.1 volt adjustment from 0 all the way up to 18 volts!
Built in short circuit protection
Six voltage presets and 'non volatile memory' means your power supply will remember your presets, even if you unplug it from the wall.
It's small size makes it easy to bag with our machine or bottle bags
6 amp peak current, 4 amp true continuous current
Included: 1 G2 magnet mount, 1x 10/32 wing nut screw, 1 power cord and adapter
Volts, Amps, Speed (hz), Duty Cycle (%), and STL (for information on what these mean, click here.
---
Share this Product
---
More from this collection